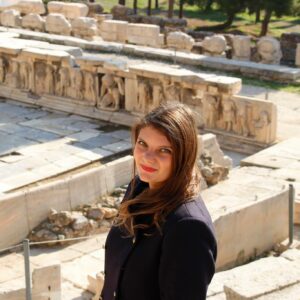 She graduated in 2009 in History and Conservation of Cultural Heritage - Università degli Studi di Roma Tre, with a thesis entitled: The nymphaea of the Suburb of Rome: diffusion, distribution and typology (rel. Prof. Riccardo Santangeli Valenzani). At the same University, she attended the Master's degree in Archaeological and Historical Research Methodologies with a thesis in Archaeological research methodology entitled: Via Appia: the brickwork building above the Scipio's Tomb (Rel. Prof. Daniele Manacorda and Prof. Rita Volpe), which has as object the analysis of the imperial building in the archaeological area of the Scipio's Tomb, usually interpreted as an "insula". In 2016 she obtained her PhD in History and Conservation of the art and architecture object - Università degli Studi di Roma Tre with a project entitled: The archaeological site of Scipio's Tomb: the evolution of settlements between Antiquity and Middle Ages.
Those years were full of research seminars and excavations, especially in Rome. Since 2011 she collaborates with the Chair of Medieval Archaeology (prof. Riccardo Santangeli Valenzani) conducting archaeological excavations at the Colosseo and Foro della Pace. Between 2016 and 2019, she collaborated also with the Pontificio Istituto di Archeologia Cristiana, with whom she conducted archaeological excavations in the Catacomb of Santa Mustiola (Chiusi).
Nowadays she carries out her own researches. She is particularly interested at the funerary archaeology, at the late antique boundaries of the city and at the changing of urban landscape, from Late Antiquity to the Early Middle Ages, especially of Rome.
In the last few years, she has been able to conduct some research experiences in international academic environments. First at the Faculty of Humanities of the University of Fribourg (Switzerland) with a Post-Doctoral Fellowship Cantonal scholarship for Italian citizens, with Prof. Nathan Badoud as supervisor, then at Austrian Academy of Science (Vienna) within the OeAW H2020 incoming Fellowship program. In 2020-2021, she won a Research Scholarship at the Foundation Hardt pour l'Étude de l'Antiquité classique. Geneve (Switzerland) (Postponed 2021) and anther two scholarship at the German Archaeological Institute. Now, she is working at Johannes Gutenberg Universität Mainz thanks to a DAAD research scholarship within the Institute of Christliche Archäologie und Byzantinische Kunstgeschichte with the supervision of Prof. Vasiliki Tsamakda and she is focusing on the analysis of the conception of sacred space and "borders" between Christian and Jewish culture.